Slide 1 of 1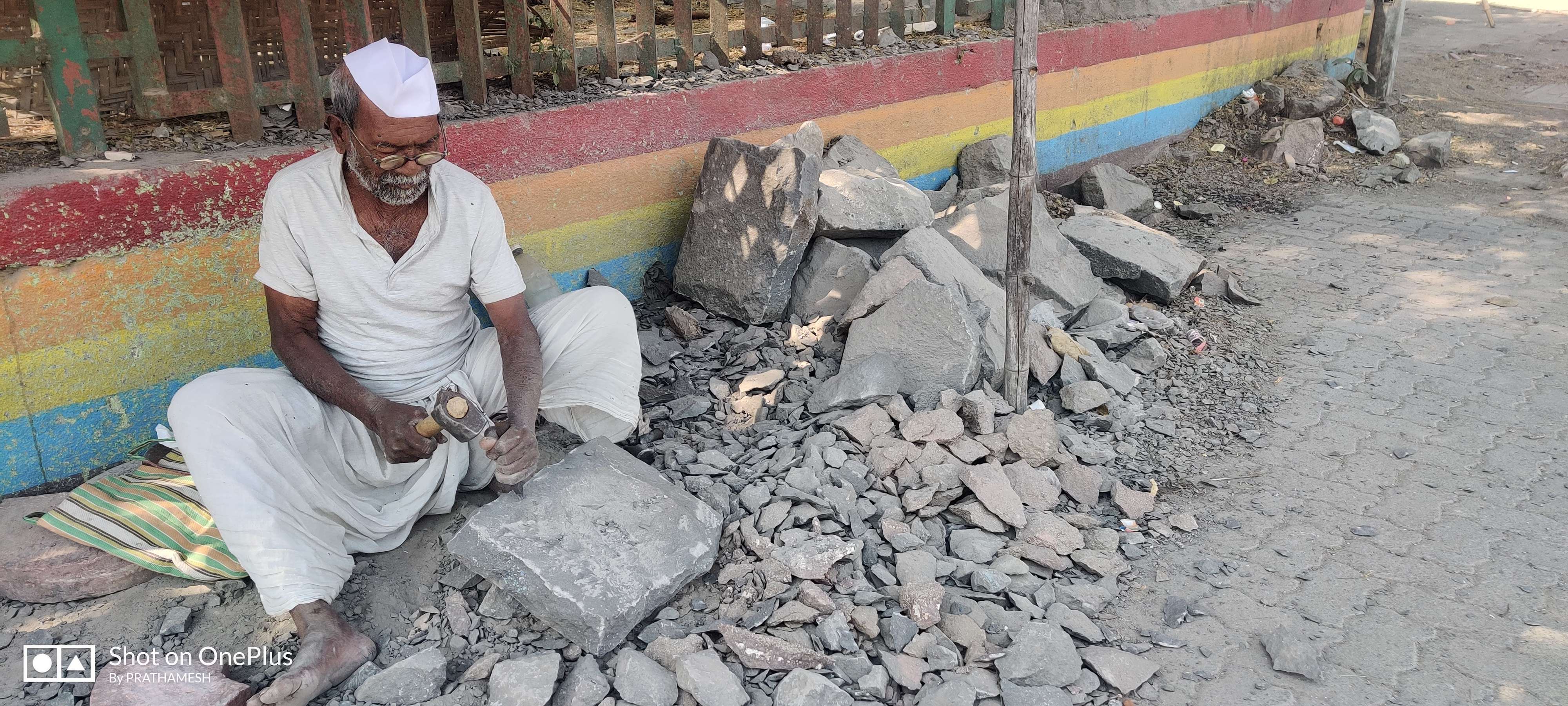 The society that makes God out of stone is neglected ...
Hadapsar: The patriarchal society, which worships God by striking a stone with a hammer and sieve on the strength of its wrist, is living a neglected life even in independent India. Most of the artisans in this community are nominally literate and do not have any university degree. Although they do not qualify for any job, they have built-in skills. They know the art of shaping a stone to make God. However, in the age of globalization, the demand for stone objects and idols has decreased. Replaces light-hollow fiber sculptures, stone gods. Food processors have surpassed Pata, Varvanda and Khalbatta. This has put the neglected stone sculptor's business in jeopardy. It is a matter of whether this art will disappear over time.
The craftsmen make various idols including Nandi, Pind, Shankar along with Pawansut Maruthiraya. The artisans make traditional utensils like pate, varvante, khalbatta which are useful in home kitchen. In the past, craftsmen used to make large chirebandi wadas, temples, wells, bawdi, ponds, dams, barricades, bridges, temples, palaces, palaces, mansions, village gates, bastions, forts, underground passages, basements, strong ramparts, decorative palaces, living rooms etc. . But in today's age these works have become extinct. Therefore, the new generation does not dare to enter this traditional business.
"I have been carving stone since I was 11 years old," said Kerba Dhotre, a 75-year-old stone carpenter from Hadapsar. My childhood in-laws worked 30 to 40 professionals like me on the streets. However, in modern times, the demand for the goods we manufacture has decreased. Since there is no quarry in this area, we have to fetch stones from far away, which has also made it difficult to get them at reasonable prices. So now only two businessmen are doing this business. Our business is in crisis and the question of how to support the family has arisen. We used to shed blood all day long, but no one pays attention to our art. The government needs to pay attention to this hard-working neglected community.
Navnath Dhotre said, "Our traditional business is very difficult. They earn more than wages. So the new generation is not learning our business, not ready to hit the stone. So our business is going to disappear soon.
Craftsman Vishal Vitkar said, "We have about 100 houses in our Mahatma Phule colony. But only 2 people are doing our traditional business. It is difficult to cover household expenses from our business. As a result, many parents have enrolled their children in school. Sometimes Bhavani doesn't even happen in our business. After all, you get only 100 to 200 rupees a day. If you earn more than that, you get Rs. 500 per day.
1
Like
Comment
Share
Stay updated with latest
news & trends